08-12-2006
Book Progress and Radio Show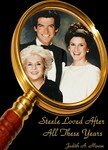 As I mentioned it in a previous update, Judith Moose is writing a guide on Remington Steele entitled "Steele Loved After All These Years". She's doing a wonderful job and always keep us informed of her progress on the SteeleWatchers group.

She met Michael Gleason and Doris Roberts this week, and she'll meet Stephanie Zimbalist on Sunday to discuss the book.

Here is a small summary Judith posted on SteeleWatchers about her lunch with Doris and Michael:
"Debbi and I have just gotten back from the most fabulous afternoon we could have dreamed of having. We had lunch with Michael Gleason and Doris Roberts in Beverly Hills and I can tell you without any hesitation at all that Doris is one of the most charming people you would ever want to meet in your life. She shared incredible stories that will be included in the book and before the end of lunch (another two-and-a-half hours) she shocked the heck out of me. Actually she did that several times but who's counting. One of the stories was so hysterical that we all laughed so hard we were crying!"

You can pre-order "Steele Loved After All These Years" by clicking on the following link: http://www.signingstars.net/steele.htm

The book will also be available on Amazon, Barnes & Noble and various other bookstores, so keep your eyes wide open for the release of the book on October 8th.

Do you wanna hear another good news? Judith Moose, Michael Gleason and Doris Roberts will be the guests of the online radio show "Talking Television With Dave White" on August 15th (the day when RS season 4 & 5 boxset will be released). Tune in from 8:00 to 9:00 pm Pacific Time to the following adress: http://ksav.org/ and click on "listen live". For those who will miss the show, it will be archived here: http://ksav.org/talking_television_audio_archive.htm

Judith, thank you so much for sharing your work with us. You surely have spent exciting and unforgettable moments with Michael, Doris and Stephanie. Lucky you!
Comments
Add a comment